Welcome to neotacular |
Forums
Find an Error?
If you find an error on our site, such as the layout stretching on a page, a typo, or code showing where it shouldn't, please send us an error report in the Report an Error Forum!
Brush Layouts
This tutorial will show you how to make Brush Layouts.
Brush Layouts are much easier than they seem. You can use any image but I suggest you use a neopets background while starting out or practising.
I will use this image as an example: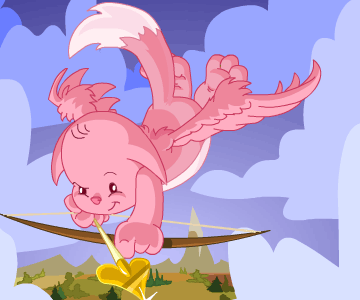 Click to view full size image
Step 1:
Once you have chosen your image, go to Materials palette, which contains swatches and colours; and click on your Foreground Color.
Step 2:
A window should pop-up and you should see the 3 tabs at the top:
Color, Gradient, and Pattern. Click on Pattern.
Make your settings match mine.
Step 3:
Open a new image, 600 Pixels By 500 Pixels, with a transparent background, like so:
Click to view full size image
In your new image, select the Brush tool and set the hardness to 100%
Start adding brushes in varying sizes next to each other, so you end up with something like this:
Step 4:
In this step, we will create the outline around the brush layout. Below will show you how to create a simple line, or you can create a feathering effect found in
this tutorial
Make a new 600x500 pixel image, unchecking the transparent box you ticked earlier, and make the background black, or whatever color you want the outline to be.
Go back to your first image and go to
Edit > Copy.
or press
Ctrl+C
Then go to your second image, go to
Edit > Paste > As New Selection.
or
Ctrl+E
Then go to
Selections > Modify > Expand.
See below:
A popup will show up like the one below, where you can change the thickness of the line.
Step 5:
Click
Edit > Copy > Paste > As New Image.
and add your final touches.
Your image should look something like
this.
Conhratulations! You can now make Brush Layouts!
- Tutorial made by Neotacular, using Paint Shop Pro 8.
Spot any errors in the above tutorial?
Tell us!
« Main List
Printer Friendly Version