Welcome to neotacular |
Forums
Visit an Affiliate
Visit an affiliate today :) Affiliates are located in the side bar.
Animating
Animating images in Adobe Photoshop isn't hard, really. If you have imageready, then it should be as easy as counting. =)
.. You
do
know how to count, don't you? =/
First start by making an image that you want to animate (or opening it, doesn't matter).
I'm going to create a blinkaroo. xP
Make each 'scene' a different layer, like I did below.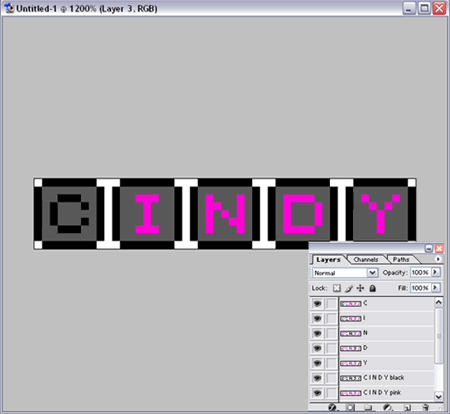 Notice that I zoomed in closely, and made my image transparent. You can do this by deleting any white background/ layer.
Now, we can animate!
Press CTRL + SHIFT + M to open imageready, or go to File --> Jump To --> Adobe Imageready
Now you should have your Imageready open. Before we start animating, make sure the Animation window is open.


Each 'scene' is called a frame. So, create as many frames (scenes) as you need. I need 8 frames (C, I, N, D, Y, flash pink, flash black, and flash pink again).


Let me explain a bit about frames. Do you see the 0 sec. under each frame? That's the amount of time that frame is going to appear for. You can change the amount of time by clicking the arrow beside the 0 sec. I'm going to change each frame to appear for 0.2 sec.
Do you want your animation to rotate through the frames forever, or just once? Maybe just twice? You can change the Forever option by clicking the arrow beside it, and choosing the amount of times.
If you made an extra frame by accident, or if you don't think you need a frame that you made, then just click on the trash can, and it will delete the frame for you.
Want to test-run your animation? Click on the Play arrow (it is the arrow facing your right hand side, and it does not have any lines around it.
By now you are probably wondering what that line of tiny circles does. It's called the Tween Tool. What it does, is it fades one frame into another. Like the Tween Tool shows, The circles are fading away. You can do this by selecting the frame you want to fade, and clicking on the Tween Tool. There, you can select which frame you want the frame you selected to fade into. You can also select the amount of frames it will take to fade the frame. The more frames, the longer the fading process takes.
Now that you know what each of the tools do, let's start animating!
Alright, the whole animating process is kind of hard to explain, so stick with me, and don't lose hope!
First, select your second frame. Click on the little eye beside your layer in the layers menu to make that layer disappear. You can do this to not show that layer, and show the layer underneath it.
Then select your third frame. Click on the first two eyes in the layers menu to show the layer under those two. Keep doing this for all of your layers and frames.



Test-run your animated image. Mine works fine. If yours doesn't, check to make sure that the proper layers are hidden (the proper eyes aren't there).
Once you are finished and satisfied with your animated image, you can save it. You can do so by either pressing CTRL + SHIFT + ALT + S, or going to File --> Save Optimized As... Make sure you do Save Optimized As, and not just Save As. If you save it, and it's not optimized, then you will have a HUGE animated file that will be almost impossible to upload anywhere.
This is my final result.




« Main List


Printer Friendly Version