Welcome to neotacular |
Forums
Find an Error?
If you find an error on our site, such as the layout stretching on a page, a typo, or code showing where it shouldn't, please send us an error report in the Report an Error Forum!
PSD Cutting
For those of you that don't know, PSDs are cut out images of people, animals, things, etc., and are in .psd form, so that they will be trasparent. PSDs are great to make layouts, because you don't have that pesky colourful background to try to blend into your layout.
Anyway, there are 2 ways (that I know) to make PSDs. The eraser way that makes you suffer, and the Pen Tool way that is as easy as pie.
Mmm... Pie..
I will show you how to make PSDs with the Pen Tool.
Start by choosing an image that you will cut out. I'm going to use the Meepit background that you can get by clicking here.
Once the image is opened, select the pen tool. Make sure the PEN tool is selected. It will look like a pen, with NOTHING beside it. Also make sure that the Paths tool is selected at the top. It will look like a maraquee triangle with a pen inside it.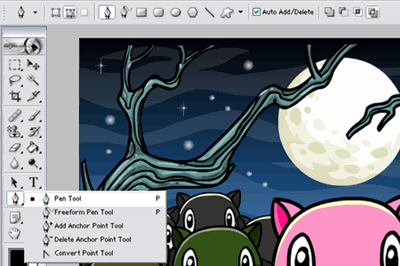 Now we can get to cutting. With your pen tool, click on the image you want to crop's edge. Go all around your image. If you made a mistake, just press CTRL + Z, or click previous actions from the history window.
If you have your object (or person, animal, etc.), and theres something inside your object that you want to delete (like if your object has a big circle hole in the middle that you want to be transparent), then choose "Subtract from path area" at the top, and go around the section you want to remove.



Once you are done with outlining your object, right click on it, and select "Make Selection..." The feather radius can be 0 pixels. Anti-Aliased and New Selection should be checked. Press OK.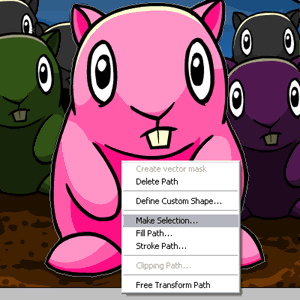 Now you should have a maraquee border around your image. Copy the image (CTRL + C), make a new document, and paste it (CTRL + V). And there you have it. Your own PSD. Aren't you proud? You can now save it (as a .PSD).

« Main List


Printer Friendly Version