Welcome to neotacular |
Forums
Help Us Out!
Did you know that you can help out Neotacular in many ways? We have a suggestion forum for you to post ways for us to make the site better, a submission form to submit game guides, graphics or anything, and "vote for us" links to topsites in the right column! We appreciate your support!




The snowager is asleep! Click here to visit him.
Snowager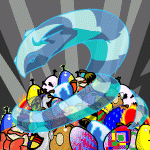 The Snowager, better known as Snowy is one of the Monsters of Neopia. It resides in the Cavern of the Snowager. The Snowager guards a large pile of valuable items. Neopians from all around the globe try to visit the Snowager to steal some of these items. But you can only do this at certain times of the day, when Snowy is sleeping.
Times of Slumber

The Snowager only sleeps for three hours a day. The rest of the time Snowy is awake guarding it's pile of items. But when it is sleeping Neopians have the chance to go up to Snowy and see if they are lucky enough to be able to get an item. These are the times when Snowy is sleeping.
6:00am - 7:00am NST
2:00pm - 3:00pm NST
10:00pm - 11:00pm NST
Avatar
But it isn't all bad. Sometimes you might get blasted by Snowy and this will take some hitpoints from your active pet, but this could be a good thing When you get blasted by Snowy you might have a chance to be given a avatar.
Snowager- Rawr! - Neoboards
Randomly awarded when you get blasted by the Snowager.
---------------------
- Brought to you by Stephen
Any errors spotted in the above guide?
Tell us!
« Main List
Printer Friendly Version