Welcome to neotacular |
Forums
Check Out Our Generators!
Did you know our site offers a variety of "generators" for you to create personalized graphics and scripts?




The snowager is asleep! Click here to visit him.
Haiku Generator
A daily Haiku to help find the meaning of life? Not exactly. Rorru gives each member of Neopia a random haiku for everyday of the year. These haiku's are randomly generated and will not help you find the meaning of life.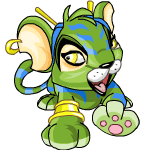 Round tree, breakable
or elegance catches here
flies, laughable ground.
So why not visit the
Daily Mystery Island Haiku Generator
. It might not solve the meaning of life, but you never know it might just get those creative juices pumping. Also, another reason to visit is there is an avatar available.
Rorru - Neoboards
Randomly awarded while refreshing at the Haiku Generator.
---------------------
- Brought to you by Stephen
Any errors spotted in the above guide?
Tell us!
« Main List
Printer Friendly Version