Welcome to neotacular |
Forums
Help Us Out!
Did you know that you can help out Neotacular in many ways? We have a suggestion forum for you to post ways for us to make the site better, a submission form to submit game guides, graphics or anything, and "vote for us" links to topsites in the right column! We appreciate your support!
Kass Basher
World
Difficulty
NP Ratio
Medium Easy
1.25
Trophies
---
Introduction
An evil villain is standing high above, in his floating citadel of death. He is plotting to destroy your land, so what do you do? Make a plushie that looks like him and hit it with a stick of course!
Game Controls
Spacebar/Left Mouse Click is the only button you will be using in the game. Both do the same thing, so choose the one that feels most comfortable. It will be used to drop the Kass, whack the Kass and also control the kass' wings through it's flight and landing.
Hit either button to drop the Kass and hit it again to whack it.
When in flight, holding the spacebar/left mouse button will tuck Kass' wings in, and releasing it will let him flap them.
Game Modes
Easy: When playing the game for the first time, this is the only mode available and you will be using a long stick of bread. You know, as you do. The Kass plushie will fall from the tree slowly and if you manage to hit kass past the 175 metre mark, you will unlock the Stick mode!
Medium: In this mode, you will be using a stick to thwack that Kass, and he falls from the tree a little faster than in the Easy mode. Hit him past 450 metres and the last and hardest mode is all yours.
Hard: This mode is bad news for our little Kass plushie. You will be using a spiked bat, and Kass will fall at quite a speed from his perch. Timing is significantly harder in this mode, but you can easily achieve scores of OVER 1000!
Tips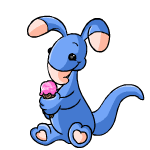 The wind is your friend! Wait until it reaches 8 or 9 metres/second, accept no other value. This may take some time, but you know what they say, patience is a virtue.


Timing is essential, so you will need to know the perfect time to hit lil ol' Kass. When the tip of his beak is just about to reach the Blumaroo's ears, give the plushie a whack to reach maximum height.


As soon as you've hit the plushie, hold down the spacebar or left mouse button. This will tuck Kass' wings in and keep him nice and streamlined.


When Kass becomes level in the sky, he has reached the highest point of his ascent. This is the opportune moment to release the spacebar or left mouse button and let kass flap his wings and gain distance.
See below:


Look Ma, no wings!

It's not quite over yet! When Kass is approaching the ground, you can still do something to help him gain that little bit more distance. As soon as you hear the *thud* of your Kass plushie hitting the ground, hold down the spacebar/left mouse button to tuck his wings in again. When he becomes horizonal, like in the above picture, let go. Repeat this everytime he hits the ground.

The Tree

Very rarely, your bat can sometimes become replaced with the whole tree! This gives you more hitting force than the bat and can easily take Kass to scores of 1700 and above. As this is extremely rare, take extra caution on the wind and timing as this may be your lucky chance to bag that shiny, gold trophy!

Avatar

Whack-A-Kass - Neoboards
Submit a score of 850 points or more in a game of Kass Basher .



---------------------
- Brought to you by Katy
Any errors spotted in the above guide? Tell us!



« Main List



Printer Friendly Version